A Vital Early Warning
Smoke alarms and carbon monoxide detectors save lives. In the event of a fire or faulty appliance they give you that vital few minutes early warning so that you can escape the danger and call for help.
SWL Fire Protection are proud to be accredited "expert installers" of the market leading, technically advanced Aico brand of alarms and detectors in homes, businesses, and rental properties in the Scottish Highlands.
The latest Scottish regulations require all homes to be fitted with interlinking smoke and heat alarms, and also carbon monoxide alarms if there is a carbon-fuelled appliance or flue in the property. Alarms must to be powered from a mains circuit or by a sealed battery which lasts the life of the alarm.
Not all available alarms are suitable for complying with the law, so if you are uncertain about what type of alarm you need to keep yourself and your property fire safe, consult our knowledgeable technicians and we'll be happy to install the correct equipment.
Call 01349 852187 for Smoke Alarms
---
Essential Fire Detection Equipment
Our favoured brand of Aico alarms are manufactured in Ireland. Each device is Kitemarked and tested at least four times before it leaves the factory. What we like about Aico is that they offer a wide range of sensor types to suit every property, and they have a first-class installer training scheme which we completed to become "expert installers".
The Aico alarms we supply and fit have all sorts of special features like rechargeable battery backup for mains powered alarms; 10-year alarm life; remote control and wi-fi enabled "smart" models; and all sorts of other innovative technology and functionality.
After assessing your home or rental property we will be able to recommend the best type of fire/heat alarm and Co detector to fit in the building, how many you need and where they should be sited for optimal safety. We'll then be able to give you a quotation for the installation of all your essential fire detection equipment.
Contact the Smoke/Heat & Co Alarm Experts
---
Fire & Gas Detector Types
There are different types of smoke, heat and carbon monoxide detectors available which are fitted to the ceiling and let off a loud warning sound if they detect what they are designed to do.
Optical smoke alarms detect smouldering fires, like upholstery or wiring, so are best fitted in vestibules, hallways, landings or the living room.
Heat alarms detect the high temperature rather than smoke from a fire, so are therefore ideal for the kitchen.
Carbon monoxide detectors are effective at alerting you to the presence of toxic gas generated by the burning of carbon fuels.They should be fitted at head height on a wall at least a metre away from fuel-burning appliances, such as the boiler or oven.
There are also combination alarms available, which combine two of the above alarm types into one device.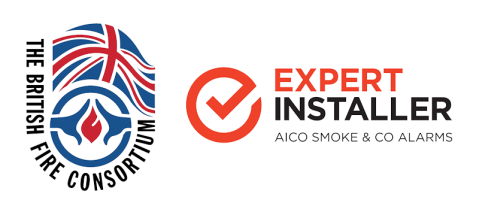 We are members of The British Fire Consortium and an AICO expert installer.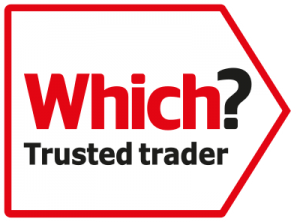 We're Which? Trusted Traders, building up a collection of five-star reviews for customer service, quality and value